Latest News
*RECENT REVIEWS*
PANTOMIME, done well, is a winner with audiences at any time of the year, and Peter Pan at the York Barbican celebrated with a packed house on Sunday afternoon.
In true panto style, both the script and acting were lively and fast paced, with plenty of audience participation from the outset to ensure even the youngest viewer's attention never wandered far.
All-round favourite Dani Harmer, Tracy Beaker star and 2012 Strictly Come Dancing finalist, played a motherly Wendy, showing off her acting and vocal talents in equal measure.
Disney's Art Attack presenter Lloyd Warbey played the title role with youthful charm and charisma while Andy Fleming, as Hook, delivered a decent dosage of boo-worthy darkness and comic menace. Credit must also go to the singing and dancing, endearing Lost Children.
However, veteran comedy star Bobby Davro stole the show as the very likeable, dopey Smee. Giggles were aplenty from young and old, thanks to the slapstick humour, quick wit and innuendo. There were also the obligatory flying scenes to appeal to young fans, and rousing rounds of "behind you" and "oh no he isn't" for the panto die-hards.
Refreshingly, this Easter production, staged by Enchanted Entertainment, stayed true to JM Barrie, with the added bonus of live music, ranging from nursery rhymes to modern hits such as Katy Perry's Roar, to ensure it was fresh and current
THE PRESS YORK
'As someone who has seen more than her fair share of pantos I am glad to say this was one of the best I have seen.
Great 'current' songs, fab stage sets, costumes and fiery special effects were even joined by a mini circus.'
THE DAILY ECHO BOURNEMOUTH
SNOW WHITE AND THE SEVEN DWARFS - WORKSHOPS

We are delighted to offer your child (aged 6-16) a guaranteed place on stage in our Christmas pantomime production of...
Snow White and the Seven Dwarfs
(subject to workshop availability with limited spaces)
We are looking for boys and girls to play our 'Villagers' in the show and perform alongside the star cast, including...
Darragh Mortell from CBBC's TRACY BEAKER, DANI'S HOUSE and DIDDY TV, BRITAIN'S GOT TALENT SEMI-FINALIST Andrew Fleming and Chris Stanton 'MR FLATLEY FROM CBBC'S M.I. HIGH'
Mirror, Mirror on the wall... What's the greatest panto of them all?
It's Snow White and the Seven Dwarfs at the Shaw Theatre of course.
Featuring the songs "Heigh-Ho, Heigh-Ho" and "Whistle While You Work" from the movie.
Join us this December for the most magical pantomime ever told, where poor Snow White is doomed to live UN-happily ever after with her horrid stepmother the Wicked Queen. In a true rags to riches story Snow White manages, with the help of her madcap friend Muddles the Jester, to meet a handsome Prince and make all her dreams come true.
Come and join in the festive fun and excitement, including a Good Fairy, a Magic Mirror and the silliest Seven Dwarfs you've ever seen. A pantomime bursting with great songs, fantastic dance routines and plenty of laughter, this is a tremendous treat for all the family you won't want to miss.
Heigh-Ho... Heigh-Ho... It's off to panto we go.
TO BOOK YOUR CHILD INTO THIS EXCITING SHOW AND SECURE A PLACE PERFORMING ON STAGE WITH THE STARS, PLEASE CLICK ON THE IMAGE BELOW AND FOLLOW THE ON-SCREEN INSTRUCTIONS...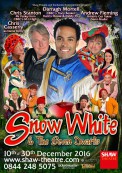 Snow White
LONDON - The Shaw Theatre
Saturday 10 December 2016
Friday 30 December 2016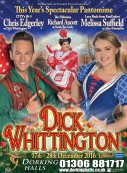 Dick Whittington
DORKING - Dorking Halls
Saturday 17 December 2016
Wednesday 28 December 2016